| | |
| --- | --- |
| Sheared interfaces | - Movies |
Interfaces in driven Ising models: Shear enhances confinement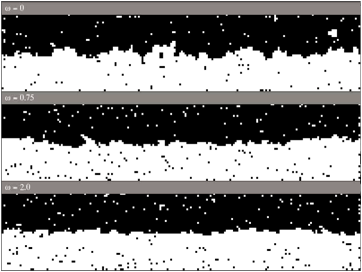 Movie (mov, avi file format): Animations showing the dynamics of model II both in equilibrium and under drive. Captions show the value of \omega, the field difference between rows. Both the short time scale, single-particle dynamics, and the much slower, collective interfacial fluctuations are evident. Under drive, the latter are strongly supressed, corresponding to the sharp magnetization profiles shown in the text.
Paper. Download our paper from here (pdf, 260kB) [T.H.R. Smith et al., PRL 101, 067203 (2008)].
Audio. Listen to a talk given at the Kavli Institute for Theoretical Physics, Santa Barbara, 19 Sep 2008, in front of an illustrious audience (having lunch) including Y. Kantor, H.-W. Diehl, M. Kardar, Y. Imry, K. Wiese.
---
University of Bristol > Department of Physics > Theory Group > M Schmidt
Copyright &copy MS 22 September 2008